We kicked the weekend off with a little takout.
Followed by getting dolled up for a date on the town.
I felt pretty and I'm usually a brutal critic on myself, so feeling pretty on our big date was a gift.
Our attempt at taking a picture of ourselves in the mirror was a circus.
I was snapping my fingers, No, look up here, not there!
Justin: Did you just snap your fingers at me like a Sears kids' photographer?
We gave up and got our doorman to take a picture.
Late night dessert... and proof we earned the following card from our friend Amber...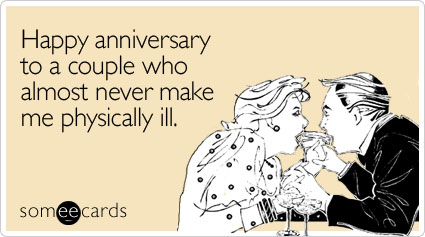 Amber's message to us:
Love you guys and thank you for not sitting on the same side of a booth at a restaurant
when it is only you two.
Brunch on Saturday... we believe in extending celebrations as long as possible.
After brunch, we promptly came home and got in an argument.
Just keeping it real, folks.
But we didn't stay mad long and we made up and watched some Friday Night Lights on netflix.
We think it's pretty cool that we've celebrated two consecutive anniversaries in New York.
I think it's pretty cool that I married by best friend, that we can fight and still love each other in the process.
I'm not perfect and he's not either, but I wouldn't want to do this life with anyone else.
And to know that we don't make our friends vomit? Icing on the cake.